Login
Log in if you have an account
Dont have an account? Register
Our Story
Henri Henri ltd was founded in montreal in 1932. Discover the hat store's rich history and learn about its surprising link with the hat trick.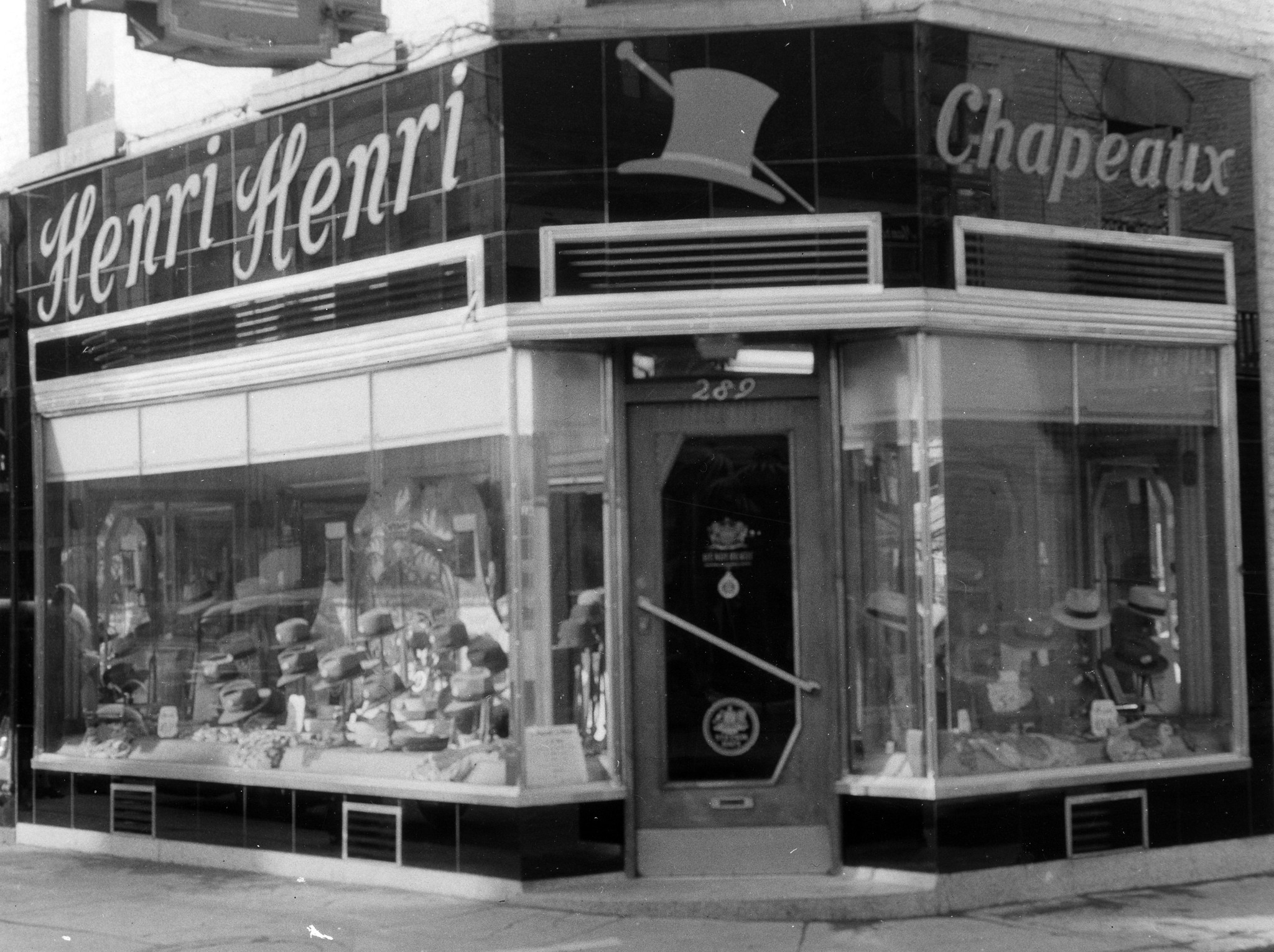 Exterior facade 289 st Catherine street East (11th April 1932)
In 1932, Henri Henri was founded as a family business by Mr. Honorius Henri and Mr. Jean-Maurice Lefebvre. Since its foundation Henri Henri has specialized in hats for men. Today we also carry hats for women and teenagers. Our vast selection of superior quality hats and our professional service has made us one of the most renowned hat stores in Canada.
Former colleagues at the Regal Hat Store, Jean-Maurice Lefebvre and Honorius Henri joined hands in seizing a unique opportunity: to open a fine hat store in the heart of Montreal's redlight district.

Brockville, Ontario's Wolthausen Hat Corporation Limited provided financial and material support to the venture in exchange for an exclusive partnership agreement, meaning the store would only sell WHC-made brands: Brock, Dunbar and Henri.

Today, Henri Henri is still located in the Quartier Latin, two blocks east of its original location.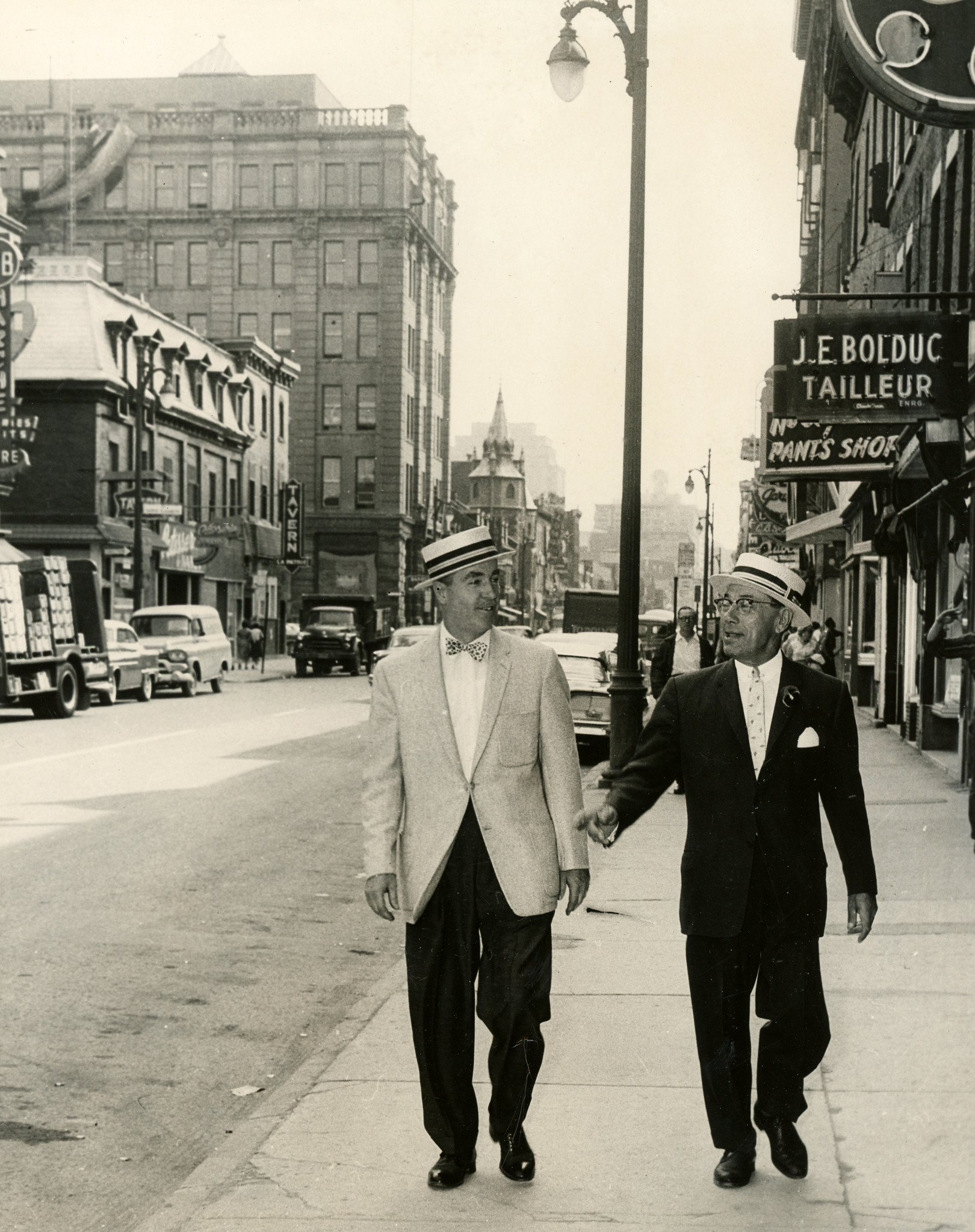 Jean Maurice Lefebvre and Honorius Henri.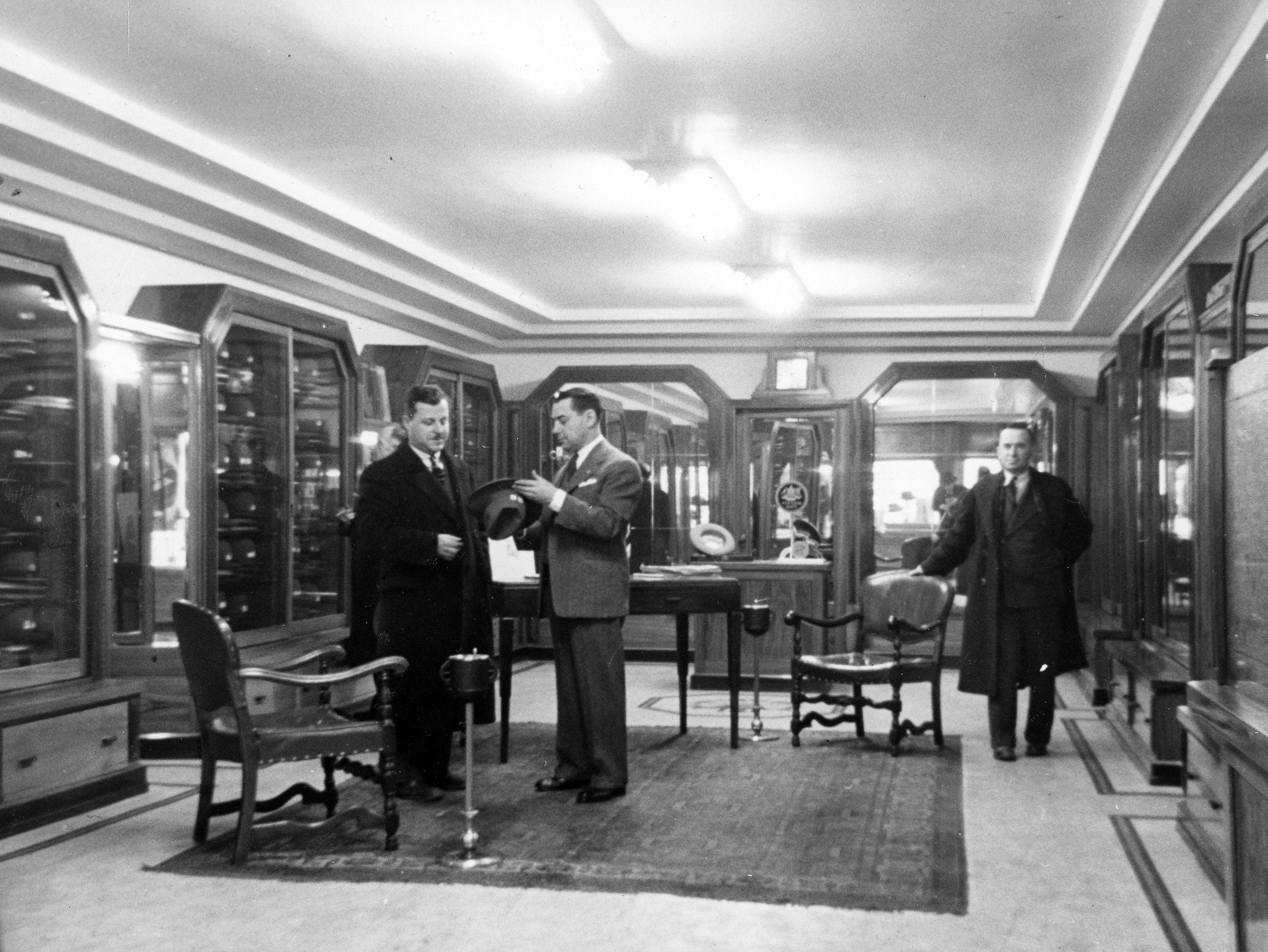 Interior of the first shop
At first, Henri Henri only offered a select few brands; Brock, Dunbar and Henri. But in time, the store grew in reputation and means through its high standards for quality and customer care.

Over time, a great many brands from all over the world were added to Henri Henri's prestigious lineup, such as Biltmore, Borsalino, Akubra, Mayser, Moore, Stetson, Christys', among others.
1941 -
Henri henri : A staple of Montreal Fashion
Over its long history, Henri Henri Ltd has left an indisputable mark in Montreal's history. Its choice emplacement, very near to Saint-Laurent street, favored the establishment of a vast and loyal customership across the francophone, anglophone and allophone communities.

This diverse and often multigenerational clientele is both the store's raison d'être and the key to its success.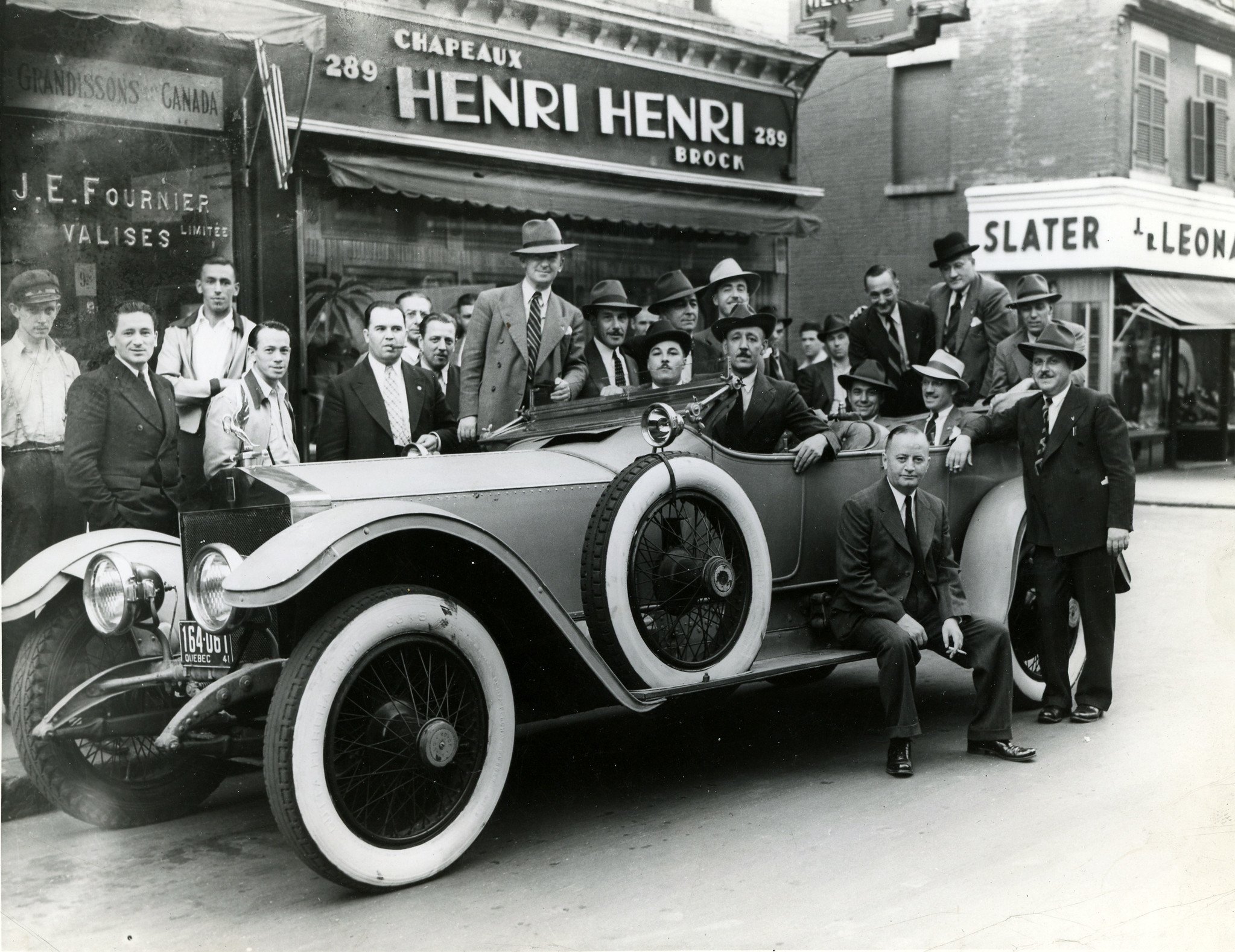 Corner Sanguinet street / St Catherine street, 1917 Rolls Royce. Large border Hats: Fashion at the time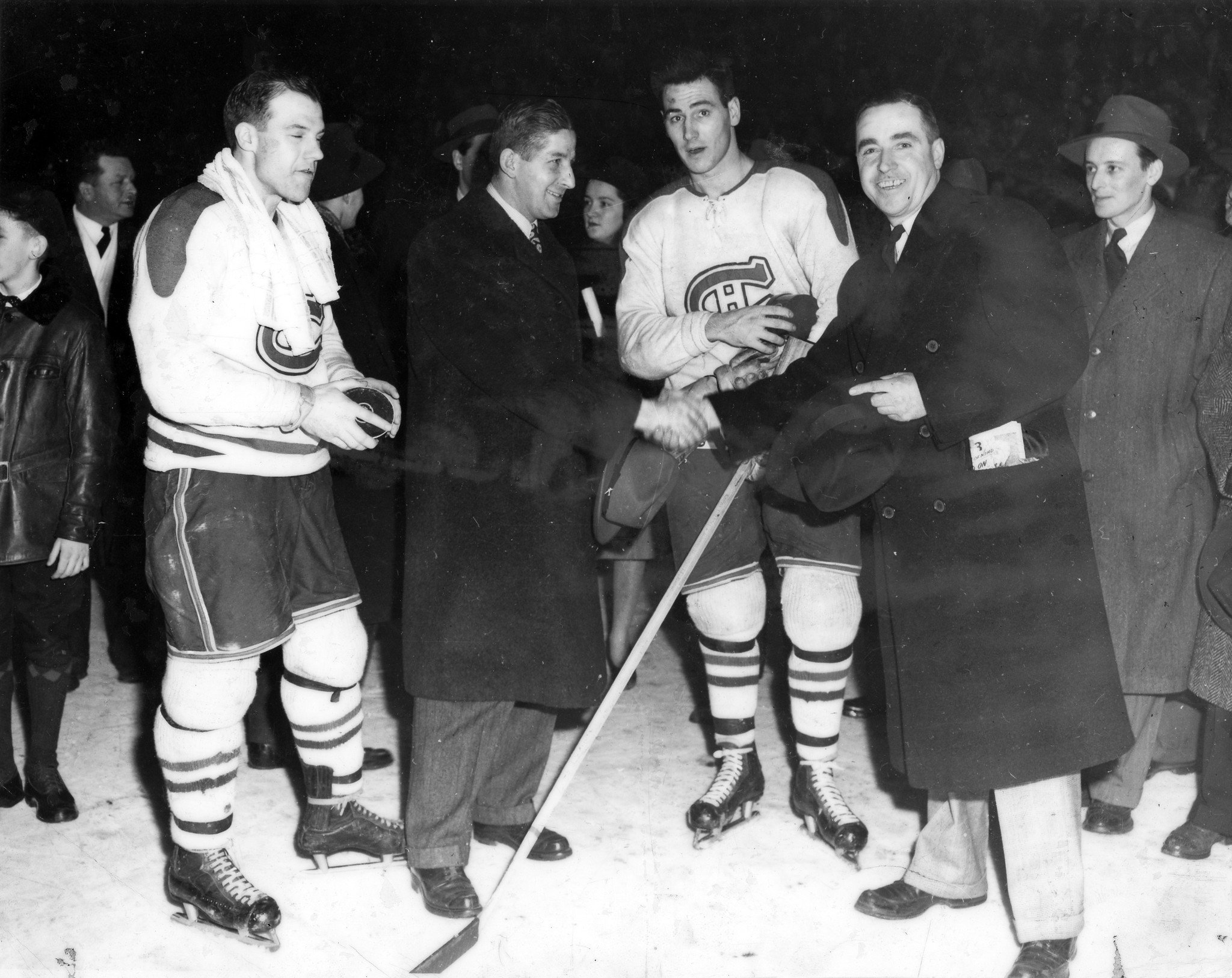 From left to right: Glen Harmon, Elmer Lack, Jimmy Peter, Jean Maurice Lefebvre.
Between 1940 and 1970 when there were six NHL teams, Henri Henri rewarded players who had scored three goals or more in one game at the Montreal Forum with a free hat, which brought the "Hat Trick" expression into the world of hockey. The list of winners includes the legendary players such as Stan Mikita and Bobby Hull from Chicago Black Hawks, Maurice Richard and Elmer Lack from Montreal Canadiens, Norm Ulman from Detroit Red Wings, and many others.

During home games of the Montreal Canadiens at the Montreal Forum, Henri Henri would not only offer a hat as an attendance prize but also to any player -from any team- who would score three goals in a single game.

Mr Lefebvre would go himself on the rink to shake hands with the player and hand him a gift certificate, exchangeable for a brand new hat of his choice.
Hence, a great many players of the "Original Six" era passed Henri Henri's threshold to claim their prize.
Among these exceptional athletes, Henri Henri Ltd crowned Montreal legends such as Maurice "Rocket" Richard, Émile "Butch" Bouchard and Hector "Toe" Blake, among others.

Here you can see Mr Henri attending to Norm Ullman, Roger Crozier, Gordie Howe, and Bruce McGregor, all from the 1965-66 Detroit Red Wings lineup.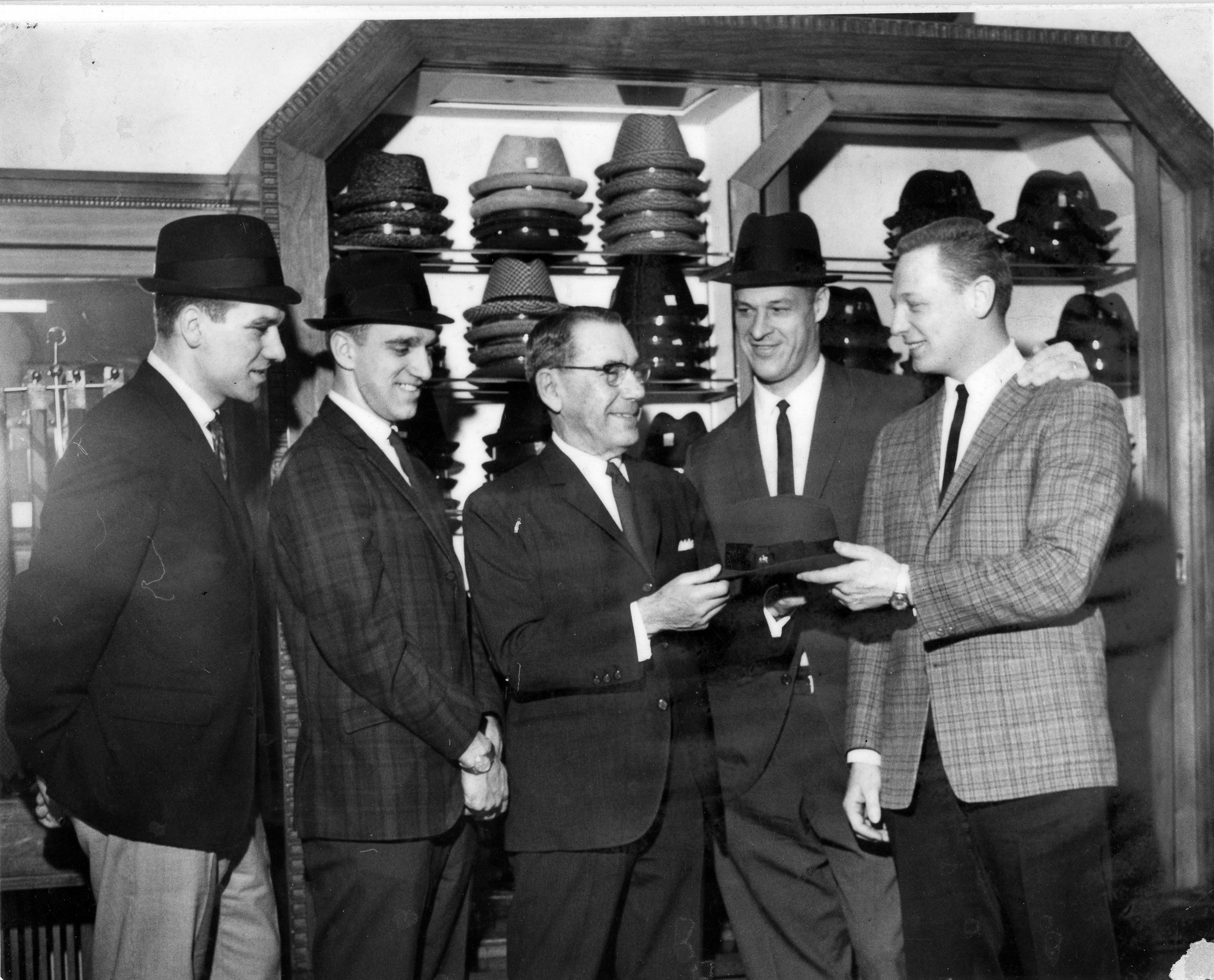 Winners of a Stetson hat offered by Henri Henri. Norm Ullman, Crozier, H.Henri, Gordie Howe, Bruce McGregor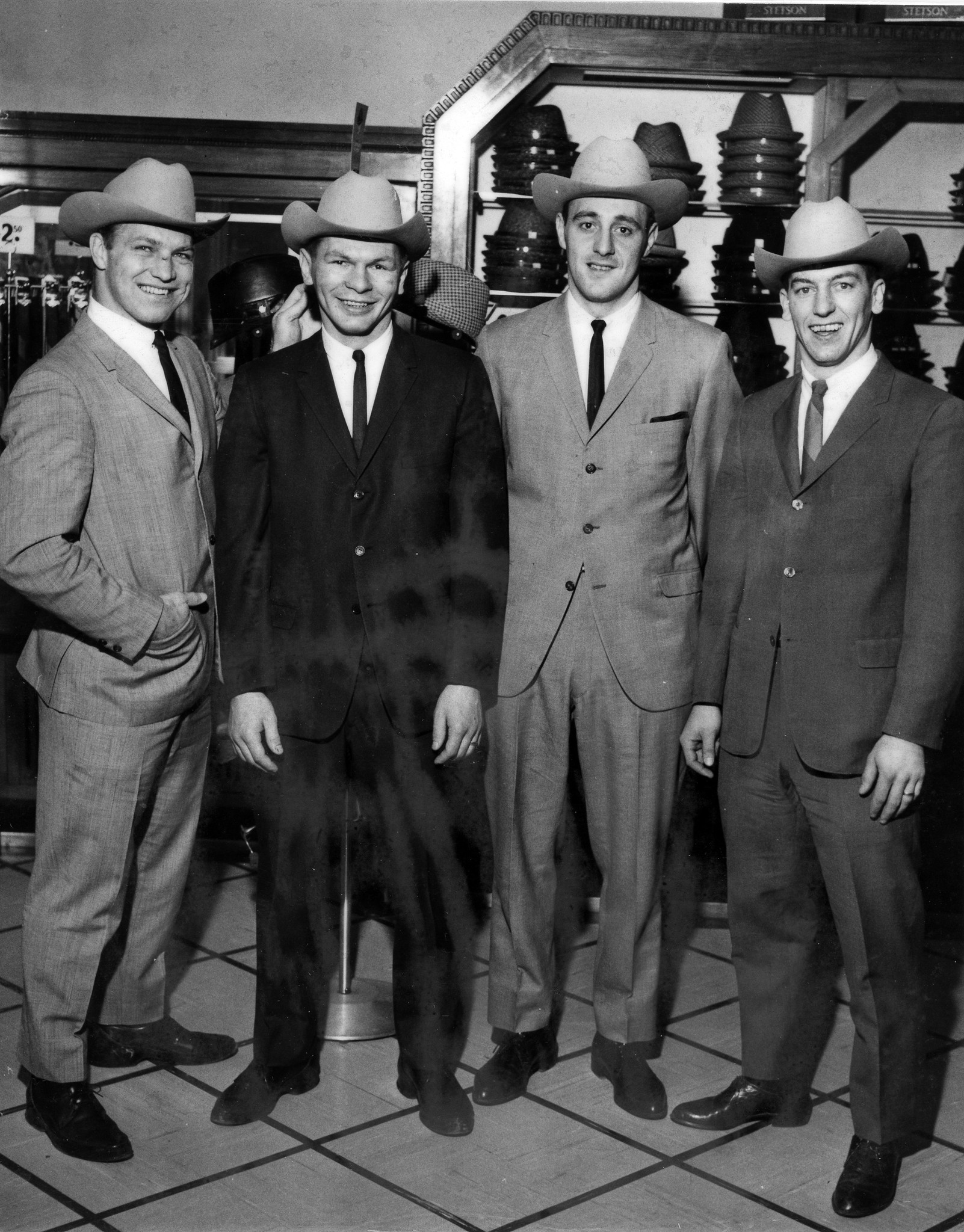 Winner of a stetson hat offered by HH. Boby Hull, Stan Mikita, Esposito, Chico Maki
1966 -
The hat trick (end)
Montreal's way of celebrating the Hat Trick developed around a promotional entente between Henri Henri Ltd and the Montreal Forum organisation.

In exchange for the authorization to promote itself through attendance prizes and the Hat Trick ceremony, Henri Henri hat the obligation to print free schedules of the Canadiens games and distribute them in the Esso gas stations throughout the city.

Jean-Maurice Lefevre ingenious twist wa sto print them small enough to be carried in a hat's leather sweatband.
1967 -
Canadiens Schedule
Have you ever wondered how anyone could ever throw their precious hat away without a thought, even if just to pay homage to a player? These hats were not simply discarded, they were assembled and redistributed by the Forum staff after the game.

The inscription on the card, reading "Hey, Joe! This isn't your hat, grab another one!" served as a friendly reminder to anyone reading that they may get their righteously own hat at the address shown on the card.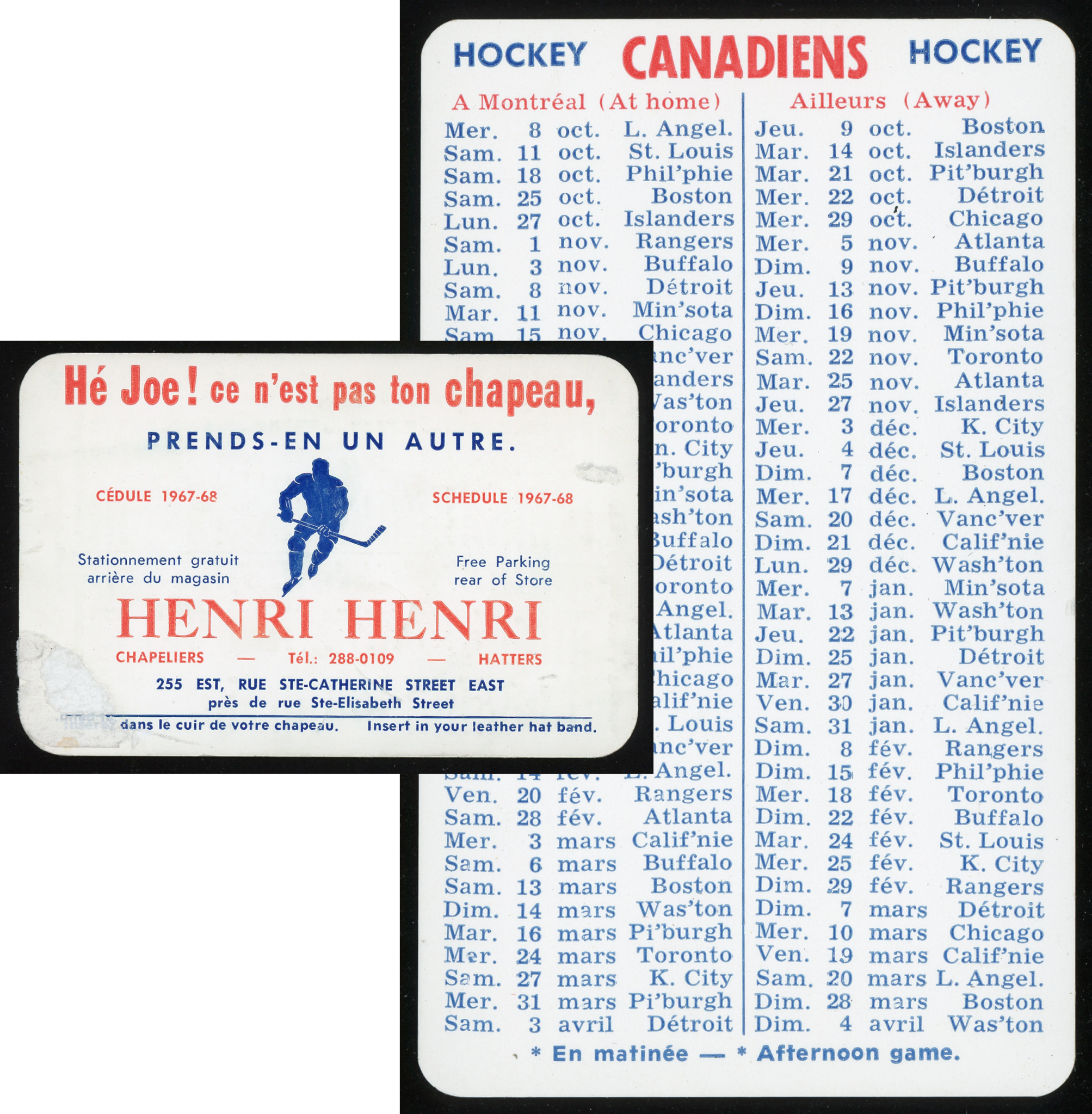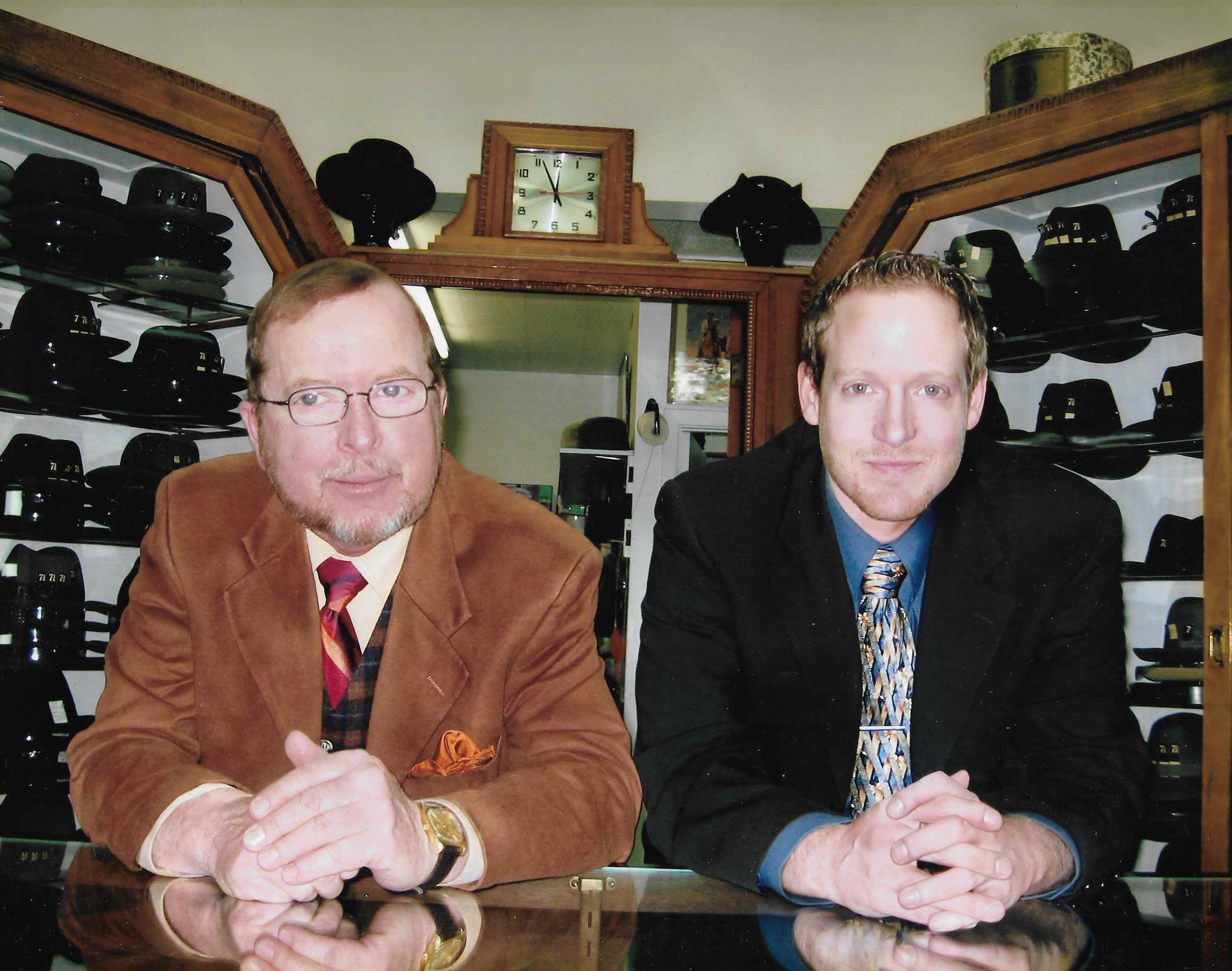 André & Jean Marc Lefebvre (2003)
Henri Henri owes its modern identity largely to Mr André Lefebvre and thereafter to his son Jean-Marc.
When André Lefebvre became owner, he let go of leather chairs and ashtrays to leave a place for modern hats made of the latest fabrics, in order to extend to its traditional offer of leather, fur and felt hats.

His keen sense of changing times and trends, paired with his diligent respect of the history and traditions of the store, are the foundation of Henri Henri's philosophy as it goes through the decades.
2016 -
Today, tomorrow and beyond
You can still find Henri Henri on Sainte-Catherine East street, a couple blocks west of its original emplacement. Now helmed by father and son duo Yannig and Joël Plunier remains a family business that places customer service and product quality at the center of its concerns.

It is to the Plunier leadership that Henri Henri owes its passage into the digital era and the growing of its youth and female oriented selection. You will still find the most varied collection of hats in Canada under our roof as well as the most comprehensive cleaning and reblocking service in Quebec. When you get a hat at Henri Henri, we are here with you for the long run.

At their first visit, a lot of customers confide that they love hats but don't think they have a head for hats. We beg to differ and are proud to say that we have changed quite a few minds, by showing that there is a shape suitable to any silhouette. So whether you are looking for a cap, a beret, an urban or bush hat, for sun or rain, made of straw or felt… Come to Henri Henri and be a part of our ongoing history!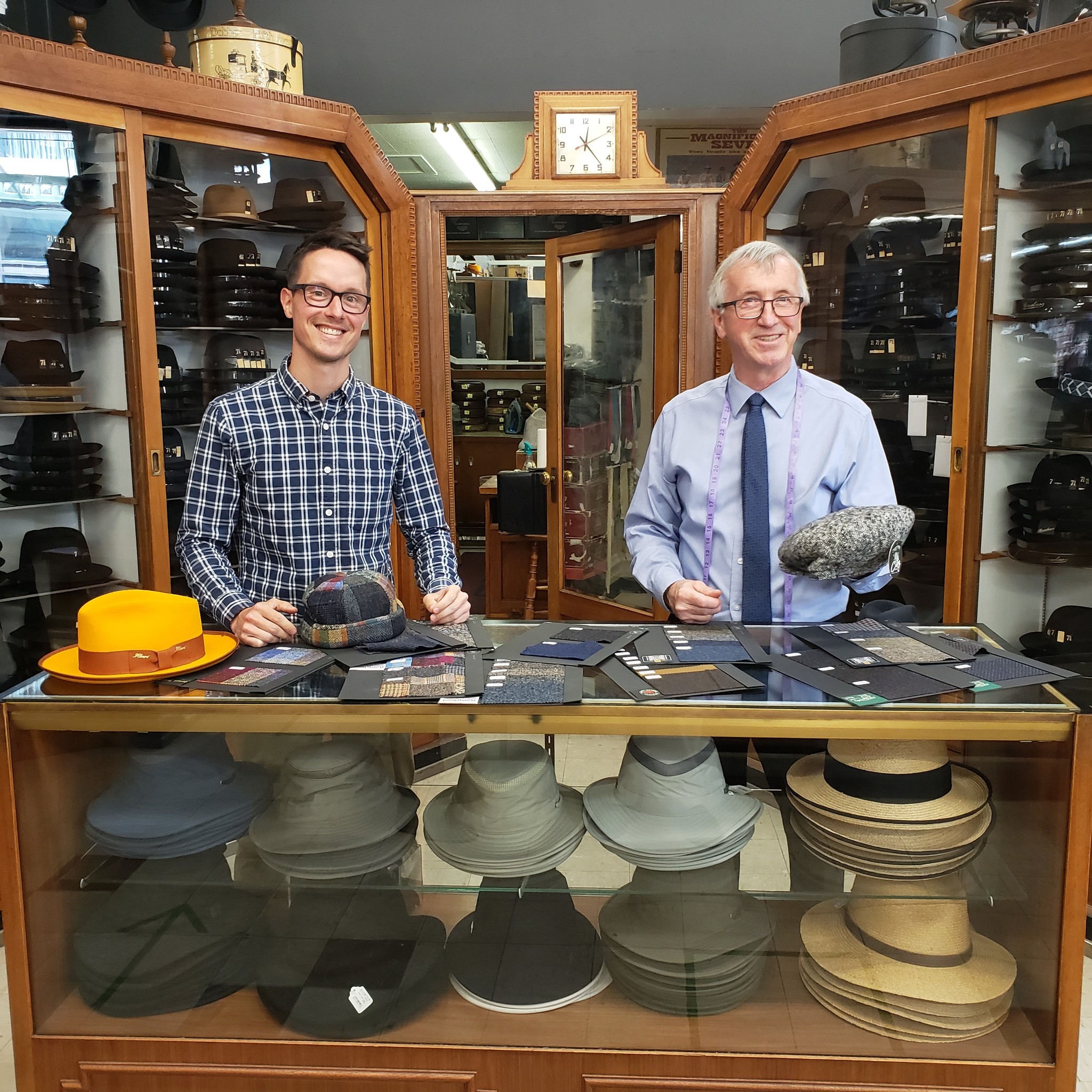 Joel and Yannig Plunier