Login
Log in if you have an account
Dont have an account? Register
Custom Hats
Nothing comes close to the feeling of putting on a hat that was specifically made for you! Discover the custom hat services at Henri Henri, Canada's oldest hat store, and let us help you create a hat that will suit your head and style like none other befo
A Custom Hat Just for You!
 
If the hat you've been looking for so long seems like it cannot be found anywhere, even among Henri Henri's largest selection of hats in Canada, then you have come to the right place. 
After months of colossal efforts to upgrade and modernize the services provided by our hat cleaning and restoration workshop, we are proud to announce that the Henri Henri hat store now offers you the possibility to design and create your own, custom hat!
Discover the incomparable feeling of custom fit and the satisfaction of wearing exactly what you had in mind for the occasion!
How to be well-prepared?
Some of us already have our perfect hat in mind, down to the smallest detail. Some have a more general idea of what they are looking for in a custom hat, but lack either the niche vocabulary or the exposure to different styles of hat to even know what to ask for. 
We suggest you begin your journey by browsing the selection of hats for men and women of the Henri Henri online hat store to learn more about the wide variety of possibilities thanks to our detailed rubrics! We also recommend you create a bank of pictures and images to help our team of experts best understand exactly what you are looking for.
Before you make an appointment, we recommend you have at least these four elements in mind:
The shape of the crown
The shape of the brim
The width of the brim
The color and type of felt
Contact Us by Email to Make an Appointment With a Milliner 
When you are confident you know what you are looking for and are ready to go, all you need to do is to write an email to [email protected] titled "Henri Henri Custom Hat" and a member of our team of expert hatters will contact you to find a day and time to begin this wonderful adventure!
A Custom Hat and a Customized Service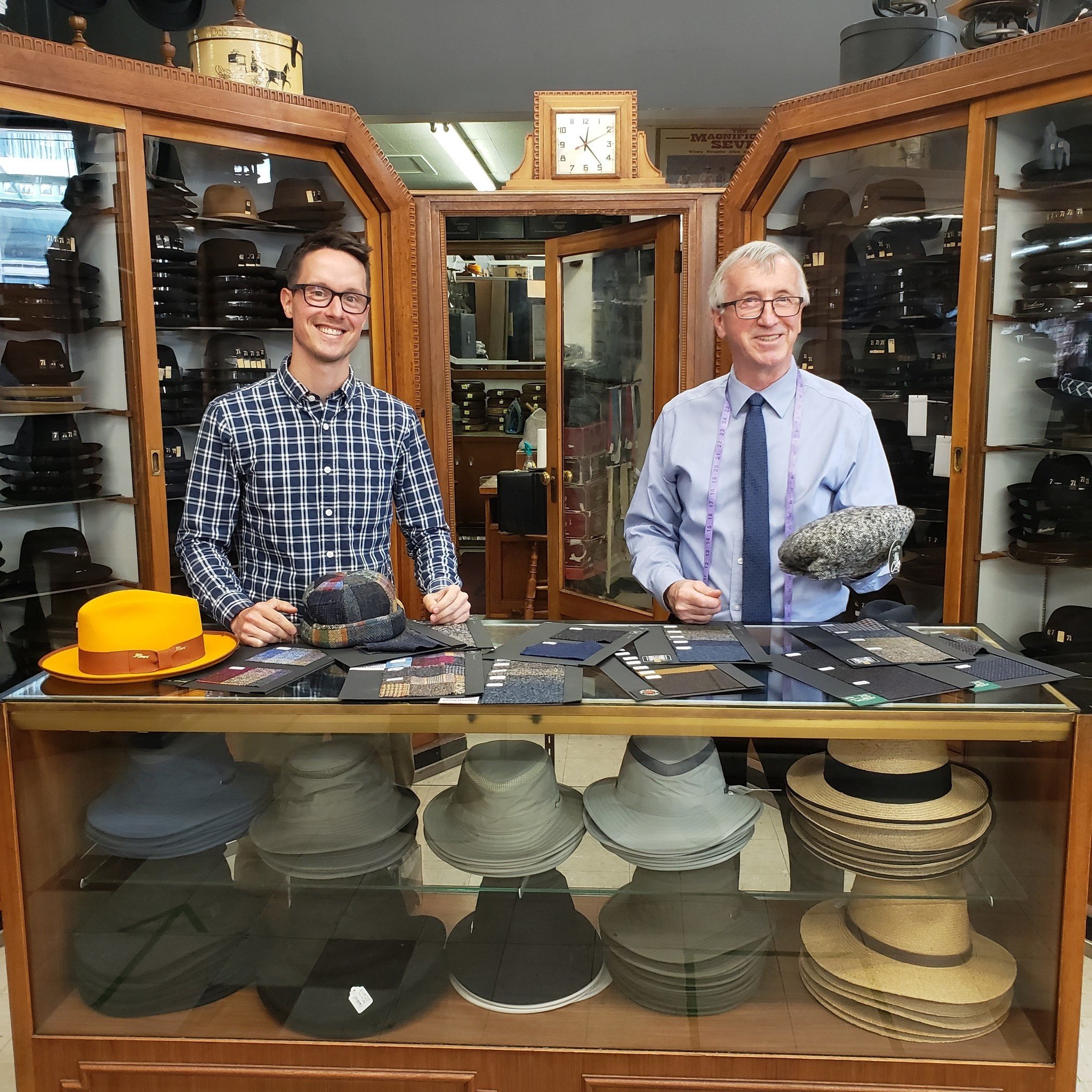 The day of your appointment, we will take the time with you to build your custom hat's spec sheet. We will then use our vintage conformer to accurately trace the circumference of your head, ensuring a tailored, unparalleled fit. You will also have ample time to discuss the merits and limits of a wide variety of elements, including:
Felts
Felt is a durable and resistant fabric obtained by consolidating animal fiber, mostly wool and furs, each having its advantages and limits. Here are the options open to you:
Wool felt, soft and affordable
Rabbit fur felt, durable and water-resistant
Beaver fur felt, watertight and incomparably soft
Crowns
Whether you are looking for a bowler's round crown, a fedora's pinchfront crown, a teardrop, a porkpie, a true cowboy's cattleman crown or any other variation, there is a world of possible crown shapes you can choose!
A hat's crown usually features a decorative band, often fitted with a feather piece. We carefully select our traditional hat bands among the finest grosgrain ribbons for a genuine vintage look. We also offer a wide range of colorful and interchangeable pugareel bands with matte and glossy finishes. 
Inside, you have the option of including a high-quality satin liner with the arms of Henri Henri. You may also select between a perspiration-wicking fabric sweatband and a genuine leather sweatband upon which we can engrave your name in gold letters.
Brims
A hat's brim can be customized in multiple ways. First of all in its dimensions, which can range from a trilby's stingy brim to a cowboy hat's massive shovel brims! Whatever the width you select, your brim may be shaped in many ways, including but not limited to:
A safari brim slopes downwards in the front and back in the manner of Indiana Jones' hat.
A classic brim, the most widespread style, whose front part can be bent upwards or snapped downwards.
A flat brim, very popular in recent years, who bridge the gap between urban and western styles. Please note, flat brims require a stiff body, which may impact the hat's fit.
Your custom hat's brim may also be finished in the following ways:
A bound Edge brim means the extremity of the brim is covered by a thin grosgrain rim. According to your wishes, the bound edge can either match or offer a vibrant contrast to your hat's band.
A raw edge brim requires expertise and a steady hand as they are cut by hand with a razor blade, which has to be done precisely right to prevent fraying.
Underwelt and upperwelt brims are flooded on themselves and sewn shut at the very extremity, adding a structural rim that adds strength to the brim.
Once your custom hat's spec sheet is completed, we will be able to undertake the creation, blocking, assembly, and finishing of your very own, custom hat. Browse the Henri Henri online hat store to find inspiration, and write us an email titled "Henri Henri Custom Hat" at [email protected] to get the ball rolling and the felt steaming!